Album Reviews
"Mailbox Money"
Tommy Lee Cook & Co. have done it again with their latest effort, MAILBOX MONEY.
It is quite simply 48:02 of distinctive style performance and pure listening pleasure.
Trying to select a favorite song of the 11 Tommy & Danny Shepard penned & play on this CD
is harder than picking the best-looking dancer in a Vegas showgirl lineup.


They "gulf coast rock n' roll" on LITTLE BLACK DRESS & on HUMAN NATURE.
CERTIFIED FOOL & COME TO ME are slow-down gems. The title track is spot-on.
And if you're not smiling from ear to ear listening to ME AND RUSSELL CROWE,
well, there's somethin' seriously wrong with 'ya . . . get yourself to a doctor, son.


I pitch bands only when they walk the talk - - I've staked my reputation on that.
Tommy Lee Cook is the brightest shining "hidden gem" since Chuck Page in 2005.
I urge you to purchase this CD and tell your friends to do the same . . . you will
not be disappointed. Both axemen kick out the licks with their pickin' sticks,
the production is crisp & clean and Tommy Lee's vocals sound better than ever.


LITTLE BOY BLUE, Rock 'n Roll Blues DJ
KPDO, 89.3 FM, Pescadero, CA (2010-2012)
KEGR, 97.7 FM, Concord, CA (2011)

littleboy.blue@yahoo.com
"Outside Looking In"
Review from La Hora Del Blues, Vicente Zumel


Tommy Lee Cook "Outside Looking In". Two Mules Music 2011.


Once again, the hypnotic existential blues and the genuine Florida swamp sound of singer,
songwriter and guitar player Tommy Lee Cook, captivates us again in this last piece of work,
by the powerful and wonderful seduction of his music that flows with an enviable spontaneity,
together with ...the good work of the rest of musicians involved in this album. You will find
Tommy Lee Cook himself on acoustic and electric guitars, dobro, sequencers, lead and backing
vocals and Danny Shepard, electric guitar, backing vocals and sequencers, plus Pat 'Cleanhead'
Hayes harmonica, but especially the first two names are the real builders of this project.
All songs included on the cd are Tommy Lee's own ones who, together with Danny Cook, have
done a hard work during several months, breaking their necks locked in the recording studio,
to produce a cool bright colorful work. GREAT.
Unlike his prior releases, which featured at least a dozen of his usual suspects as band mates,
Tommy Lee Cook seems to have shown a bit of a versatile approach to his music on "Outside Looking In",
his newest release. On this project it's just Tommy on electric and acoustic guitars, Dobro, lead and
background vocals and midi-programming; Danny Shepard on electric guitar, background vocals and midi-programming;
and Pat 'Cleanhead" Hayes on harmonica. The eleven tracks are all originals and contain a lot more ballads,
a lot more sensitive lyrics and a lot more soulful and heartfelt vocals than a familiar listener may expect from Tommy...
and this familiar listener is loving it all. I'm sure it all had to do with Tommy's frame of mind
during a recently rough period in which he lost his good friend and music associate -
whom the disc is dedicated to - Hamp Walker.
Proverbs, words of wisdom, expressions, clichés, or whatever one might call them, Tommy's mother
taught him them all.....and as you'll hear on "What You Gone Do", he obviously remembered them all, as well.
Interestingly enough, aside from the vocals, the synthesized programmed parts of this track are it's highlights.
I'm swearing that I'm listening to a hell of a rhythm section with a piano and a baritone sax.

"Take A Breath" is a suggestion Tommy's unsuccessfully making to a boring, over talkative, non punctuation
using neighbor on the next barstool who claim's that in spite of only being 35 year old, he knew Elvis.
Funny, hearing Tommy mention this guy makes me think I met him as well. Cleverly written sarcastic and
humorous lyrics are this tracks highlights.

"This Old Flame" is an absolutely beautiful song - vocally, lyrically and musically.
The soft rhythm, the light guitar notes and the steady organ background all seem to provide the
pulse that drives Tommy's emotional deliverance. Nothing fancy here, just real feelings at work.
This song's probably about a love gone wrong yet I can't help but thinking, that in some subliminal way,
it may very well have something to do with the way Tommy's buddy Hamp departed. No warning, no phone call,
no goodbye.....and from his understanding and sorrowful friends' point of view - there "Ain't No Blame".
It was probably a different day or it may very well have been a different joint, but once again, Tommy finds
himself sitting next to another talkative stranger. This one, however, seems to be a bit more interesting
as he explains "The Truth About Lies" to Tommy. Sung in a narrative form, the sincerity in the
telling of this story makes you want to closely listen.
The disc ends with it's fastest and hottest track - and as Tommy would probably describe it - "It's A Party".
On this smoker - which includes the grumbling of motorcycles - the guitars are flailing, the harp is wailing
and the programming's gone madly wild.

Other tracks on "Outside Looking In" include: "God's Little Acre", "Grits And Groceries",
"Devil On My Shoulder", "She Got The Look", and "Arkansas Dirtweed".

To purchase the disc, and to learn more about Tommy and his Buckingham Blues Bar - located in Fort Myers, FL -
just go to www.tommyleecook.com. Please make sure you tell him the Blewzzman says "hey" and that I'm looking
forward to seeing him in a few weeks.
Peter "Blewzzman" Lauro
Blues Editor @ www.Mary4Music.com
2011 Keeping The Blues Alive Award Recipient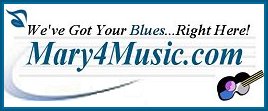 More Reviews for "Outside Looking In"...
Part of the promo for what I feature on my Blues Show goes like this: ". . . Indy Artists who could be household names. . ."
The new Tommy Lee Cook CD "Outside Looking In' fits this declaration like a broken-in pair of Tony Lama's.
The first thing I did after listening to the CD all the way through was to listen to it all the way through again.
Band members Danny Shephard, Pat Hayes & Tommy Lee rock 'n roll and do it with soul. Tasty stuff from top
to bottom - and unlike a lot of CDs, all the songs don't sound the same. It was as good as if Steve Earle,
Jimmy Buffet & Jim Suhler had formed a new group and cranked out a bunch of fresh material.
Tommy Lee Cook will get airplay on my Show, for sure . . . can't wait for the followup CD.
Rock on, guys !
Little Boy Blue
Rock 'n Roll Blues Show DJ
KPDO Radio, 89.3 FM, Pescadero, CA
www.kpdo.org
littleboy.blue@yahoo.com
"We receive hundreds of CDs every year. I listen to everything that comes through. 99% of all independently
produced material I get is really poor, both from a production standpoint and from a creative standpoint.
Most of the so-called "Label" stuff I get is not a whole lot more interesting. Your CD stands heads
above the crowd. Your music reminds me of a hybrid of Leon Russell, Johnny Guitar Watson, and Delbert
McClinton, yet you're unmistakably you . . ."
Bryan Locke, Program Director
WDNS Bowling Green KY
Bowling Green's Classic Rock D93
Tommy Lee Cook picked up a guitar when the Beatles were hot, but he's been putting out some great rocking blues in Florida, with his band, the Allstars, for years. On Cook's latest release, Outside Looking In (Two Mules Music), he almost goes it alone with only Pat "Cleanhead" Hayes on harmonica and Danny Shepard on electric guitar and midi-programming. Cook does the rest (electric and acoustic guitars, Dobro, vocals and midi-programming). Cook was at a musical crossroads following the death of his good friend and musical partner, Hamp Walker (the disc is dedicated to him).


Cook and the band play blues styles ranging from Chicago to Delbert McClinton roadhouse to the Allman Brothers' southern rock. He's also a clever songwriter, with tunes like "Take A Breath," a track about a talkative person that sounds like it's straight out of Albert Collins' songbook, "What You Gone Do," punctuated with sound advice from his mama, and "God's Little Acre," a straight roadhouse rocker. "This Old Flame" is a soulful number that waxes philosophical, similar to the opening track.


"Grits and Groceries" is a fun song that pays tribute to southern cuisine that makes you hungry just listening. "She's Got The Look" is a slinky rocker about a woman who has it all and knows what to do with it. "The Truth About Lies" is another track loaded with unique philosophy…..some of which listeners will find themselves nodding their heads in agreement.


If you're unfamiliar with Tommy Lee Cook, you will enjoy his songwriting, which puts a unique spin on everyday affairs. He's also a fine guitarist and singer. I'm glad that he decided to continue making music. He's got a gift that should be shared with blues fans. Hopefully, we will hear more from him before long. Stop by his website for more info and if you're in the Fort Myers area, visit his Buckingham Blues Bar, where he and the Allstars play every Sunday and Wednesday.


Graham Clarke
Blues Bytes
Friday Blues Fix
Tommy Lee Cook - Outside Looking In
Two Mules Music
11 tracks Total time: 53:22


Tommy Lee Cook, vocals and lead guitars, dobro, comes together with his partner, Danny Shepard,
electric rhythm guitars, to create on Outside Looking In a driving, forceful, elemental riffing music
that's positively hypnotic, and hypnotically positive. This is music that's part Delta blues electrified,
part Z.Z. Topp, and part modern Mississippi or early Chicago electric blues. Both men's guitars
are enhanced for a fuller sound through electronic programming that adds drums, piano, organ
and horn sounds. Recorded at Downtown Buckingham Studios in Ft. Myers, Florida, the CD
sleeve notes pay tribute to the patrons of their leading venue, Ft. Myers' World Famous
Buckingham Blues Bar, "Where the blues come alive". So it's a studio album that draws from
experienced live playing as well.


As a vocalist, Tommy Lee Cook uses his versatile, Southern-drawl expressiveness to become a
consummate actor, giving each song a masterful, empathetic portrayal of the character singing
the song, and the emotions he feels. He does this across the gamut of 11 original songs here,
all penned jointly by Cook and Danny Shepard. These songs combine the storytelling aspects
of country with the emotional tone-poem painting of blues and the soul-baring emotiveness of
soul. Three of the songs are slow ballads, two of them about crumbling relationships, one
because it's not working out, the other, because the bottle got in the way. These are track 5,
"This Old Flame" and track 8, "Ain't No Blame", respectively. The third, track 10,
"The Truth About Lies," captures this storytelling essence paradigmatically, in a philosophical
song of going through it all, from up to down, as might be sung by Willie Nelson doing a
Kris Kristofferson song that's been put to a blues-soul melody.


The remaining eight are medium-fast to fast blues with a touch of blues-rock, and they too run
a good gamut of themes. Three are directly woman songs. Track 5, "Grits And Groceries" and
track 7, "She's Got The Look", are songs of self-satisfaction for having a good woman that are
built respectively around food and movie motifs. "Arkansas Dirtweed", track 9, is a tale of romantic
frustration built around the women of his life pictured as treacherous drivers who leave him stranded.
The singer's made into a hitchhiker who's been dropped off in the middle of nowhere and surrounded
by nothing but—what else?—Arkansas dirtweed. "God's Little Acre", track 2, is an up-tempo blues
spiritual of coming to the Lord through being baptized in the muddy water and having one's soul
cleansed. Track 6, "Devil On My Shoulder", is the desperate lament of a sharecropper about to
be foreclosed on, contemplating whether to set fire to his barn as a fierce rainstorm looms and
finally comes. Track 3, "Take A Breath", is an ironic city blues of exasperation and irritation from
being stuck in on the only available barstool—right next to a nonstop marathon talker. Cook delivers
this one especially well, thoroughly capturing through gently humorous lyrics and delivery precisely
that trapped feeling that all of us can relate to. But all of these songs partake of Cook's outstanding
acting ability to project emotion thorough song. Method acting par excellence.


The CD opens with an original that's put together, jigsaw puzzle-like, from all those old clichés
that abound in our language, "What You Gone Do," and ends with a fast-rockin' celebration,
"It's A Party," whose title says it all. On this number, Pat "Cleanhead" Hayes punctuates with
medium- and high-register amplified harp snorts. Outside Looking In has an insistent yet
comfortable ambience that takes us from outside to plunk us enjoyably on the sofa in the
living room, listening to the stereo blasting away with—what else?—the music of
Tommy Lee Cook and Danny Shepard!


Reviewer George "Blues Fin Tuna" Fish hails from Indianapolis, Indiana, home of blues legends
Yank Rachell and Leroy Carr. He has written a regular music column for several years.
He wrote the liner notes for Yank Rachell's Delmark album, Chicago Style.
He has been a blues and pop music contributor for the left-wing press as well, and has appeared
in Against the Current and Socialism and Democracy.

George "Blues Fin Tuna" Fish
Reviewer,
BluesBlast Online Magazine

www.illinoisblues.com
Tommy Lee Cook - Outside Looking In
Two Mules Music
11 tracks Total time: 53:22


The songs on Outside Looking In will take you someplace you've never been...
53 minutes in a place worth contemplating.
Local Band New Releases Article, The SWFL Spot Magazine
www.swflspot.com



Tommy Lee Cook
"Cemetery Road" & "Buckingham Peace Of Mind"
Buckingham Blues




BY PETER "BLEWZZMAN" LAURO, © January 2010




When faced with the dilemma of receiving two CDs from Tommy Lee Cook, that were released at the same time, with a request from Tommy for me to review whichever disc I wanted to, it should already be quite obvious that the decision was just too tough to make. Therefore, I'm going to have a little fun and do my first ever "rereview" (yeah, yeah, I know that's not a word).

Except for one guitar player, the differences between the performers on the two discs are basically nil. Each disc contains eleven tracks of which five are originals. Joining Tommy Lee Cook, on lead vocals and rhythm, dobro & acoustic guitars are: Ted Scott and Bill Canty on drums, Harry Cassano and Pat Hayes on keyboards, Rex Bongo, Duke Danger and Danny Shepard on lead guitar, Justin Richey and Rastus Kane on slide guitar, August Zona on bass, Scott "Big Daddy" Johnson and Pat Hayes on harp, Terry Gable on horn and The Skin'er Back Quartet of Harry, Pat, Daddy and Tommy on background vocals and claps.

The "Cemetery Road" disc opens with an impressive version of my favorite tribute song - "Six Strings Down". As with the original, the guitar work is fabulous. Also highlighting this track are the outstanding lead and harmony vocals.

"Cemetery Road", the title track, is a heavyhearted ballad that, in spite of very nice slide and rhythm work, is all Tommy. On this original track, his mournful and soul filled vocals are chilling. This is the kind country blues song that if performed by someone with the popularity of Trace Adkins would become a number one country hit.

Like all men, Tommy gets so easily led when that "Little Head" does the thinkin'. The rhythm guys take the spotlight on this one. Ted, August and Harry get the drums, bass and piano locked into one of those foot tappin', head bobbin' grooves and never let it go.

Everyone gets in some highlights on "Porta Rican Woman" (sic) - the discs hottest blues track. The guitars, the keyboards and the harp at one time or another - and often simultaneously - are smoking, and the vocals and rhythm are outstanding throughout.

The "Buckingham Peace Of Mind" disc opens with a very funky and well done version of Dylan's "Serve Somebody". As a matter of fact, this could very well be the best version I've ever heard. Ted, August and Terry got that funky feeling down pat on rhythm, Big Daddy's blowin' heat out of the harp, Justin's beside himself on slide, and Tommy - sounding like a Gospel singer - is awesome on vocals. Replays took me nearly thirty minutes to listen to this six minute track.

"Consequences" is another slow, blues filled ballad on which Tommy sings his heart out. That, and some serious guitar licks split between Rex and Duke, clearly make this one of this discs best.

"Buckingham Peace Of Mind", the title track, is another excellent country blues track. This one features some of the discs best drum work from Billy and lots of good guitar playin' - some of which comes from Tommy, on acoustic guitar.

Everyone's showin' off their stuff on "Too Much Stuff". This one's an all out kick ass jam. Who ever's on it, and whatever they're playin' is being played fast and hot. I'm winded just listening. What a perfect song to close on.

Other tracks on "Cemetery Road" include: "Big Boss Man", "Bending Like A Willow Tree", "Late Night Drive", "Nothing Lasts Forever", "Blues As Blues Can Get", "Too Drunk To Boogie", and "Little Sister".

Other tracks on "Buckingham Peace Of Mind" include: "Monkey Around", "Down Home Girl", "Cross To Bear", "Country Song", "Lie No Better", "Get Right", and "Late Last Night".

You can check Tommy Lee Cook out at several places. The first one is his web site which is www.tommyleecook.com. That's where you'll be able to pick up both of these discs.

The second is at his blues club. If you happen to live in the area of Southwest Florida, stop in and see him at the Buckingham Blues Bar. Once you're there, tell Tommy the Blewzzman told you all about him.



Peter "Blewzzman" Lauro
Blues Editor @ www.Mary4Music.com